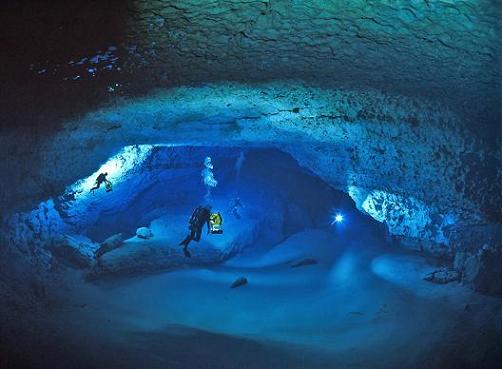 Why not have your dive tanks Hydro-tested by divers? We know SCUBA and we approach every dive tank from the diver's point of view. Next time you're on the bottom, think about who did your last hydro and VIP. Was it fire extinguisher Bubba's nephew or a fellow diver who's been right there on the bottom like you are now?… I think you know who does a better job for the diver.
We are PSI certified SCUBA Cylinder inspectors. A proper dive tank inspection, EDDY, Hydro, forced heated air dry and re-assembly takes over an hour to do right. We know Nitrox, Galvanized, High Pressure, Fiber wound and Special Exemption tanks. We know how to handle them and the special considerations each require. We have dedicated cylinder test adapters for Enriched Air so your Nitrox tank never sees the same tooling as a normal air tank. Ask your current Hydro shop if they take this precaution. I'll bet they don't and they don't even know why…
We can perform EDDY Current Testing on any aluminum cylinder. The DOT only requires this test on Alloy 6351 tanks but we feel the SCUBA community deserves this extra attention. Your safety is our first priority.
If you tank needs tumbling, we can do it.
If your valve needs rebuilding, we do that too.
We use American made, Shore A 90 BUNA or Viton O-rings during re-assembly and torque your valve to the manufacturers specs. A new VIP sticker is included with every Hydro test.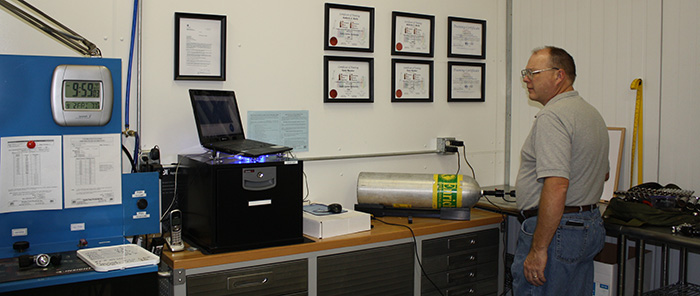 Above is a photo of an EDDY current inspection being done on a Nitrox SCUBA cylinder. A lot of divers like this test to be done as "extra insurance." Empire Cylinder can perform the Eddy test on aluminum dive tanks.