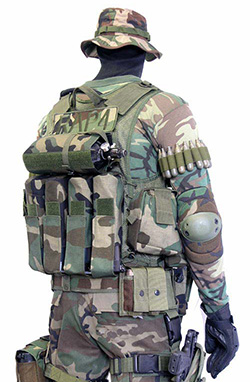 WHETHER YOU USE CO2 OR HIGH PRESSURE AIR, EMPIRE CYLINDER CAN TEST YOUR PAINTBALL TANK AND GET YOU BACK IN ACTION.
We test Steel, Aluminum and Fiber wound tanks with a two day turn around and don't charge extra for removing or installing your pinvalve. All tanks receive a DOT visual inspection, Hydrostatic test, get a forced heated air dry and then are re-assembled using new o-rings. We use a special pneumatic strap vise to hold your cylinder while removing and installing your pinvalve to prevent damaging your tank's finish.
If you're looking for fast, professional Paintball Hydro service, give us a call and we'll get you back in the game!