Street or Strip, NO2 bottles need to be tested every five years.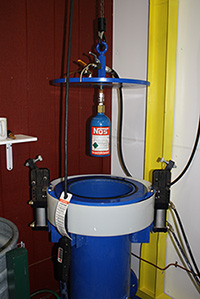 At Empire Cylinder we de-valve your bottle, inspect it inside and out then perform a test on the neck threads on every Nitrous cylinder before we Hydro test. After the Hydro test, we dry the interior of your bottle with heated air then re-assemble it with Oxygen compatible seals.
We also use a special pneumatic wide strap vice to hold your bottle while valving and de-valving. This vice is padded and gentle enough not to damage the finish on your cylinder. No chains or harsh clamps to scratch your paint. As every mechanic knows, use the right tools for the job!
Ship us your bottle and we'll turn it around in 2 days. If you give us a call, we may be able to test it while you wait. We understand what speed means to you.