EMPIRE CYLINDER DELIVERS FRESH, BEVERAGE QUALITY CO2 AND G-GAS TO RESTAURANTS AND TAVERNS IN THE GREATER DAYTONA BEACH AREA.
Because we are local, we offer better service and faster delivery times. We only charge a fully refundable deposit on the cylinders. If you own your current cylinders, we'll even waive the deposit when you trade them in.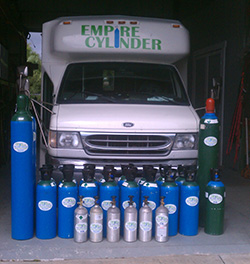 All our 20 pound tanks are aluminum with large handles. They weigh 20 pounds less than old fashioned steel cylinders. Regardless of size, we'll place the cylinders where you want them and can install cylinder chains to secure them.
We supply Beverage CO2 in 5, 20 and 50 pound cylinders. Ours is actually Beverage grade CO2. The "food grade" some vendors offer is for flash freezing and fire extinguisher servicing, Food grade CO2 is allowed about 10 times more impurities than Beverage grade. Yuk. For those of you that serve stout beers such as Guinness or Boddingtons, we supply standard 25/75 G-Gas in 20, 60 and 220 cubic foot cylinders.
Empire Cylinder will also custom blend any ratio of CO2-Nitrogen at your request.
We fill kegerator and soda machine CO2 tanks at the shop while you wait. G-Gas cylinders take a little while longer but we're happy to mix any ratio for you.
We can replace that expensive, wasteful CO2 Cryo tank with a fully automatic valve system that requires no long term contract or monthly fee. Unlike the other guy's refrigerated tank, ours won't vent away your CO2 ($) You use every drop of gas you pay for. For the same cost of a few months rental on a Cryo tank, you can purchase our setup and then only pay for the CO2 you use! The savings can quickly add up to thousands of dollars.
Empire Cylinder also delivers pure, dry Nitrogen for your gas blender system.
We deliver Beverage gases up to 50 miles from Edgewater, Florida with no additional charges or fees. Our normal schedule is every 2 weeks with night and weekend emergency service available.
From one soda fountain to mega monster night clubs, Empire Cylinder has your beverage gas needs covered. Give us a call and see what we can do for you!